Bathroom Remodeling Specialists
When you partner with Iron Kross Construction, you will work one-on-one with an experienced design team who will work with you throughout your Bathroom Remodeling Project.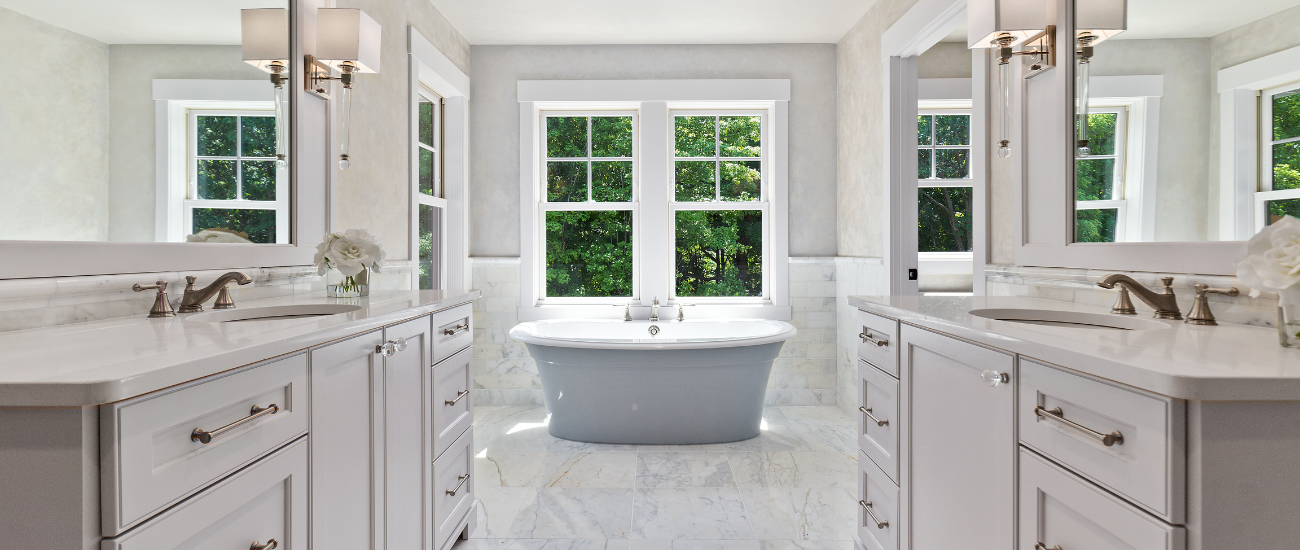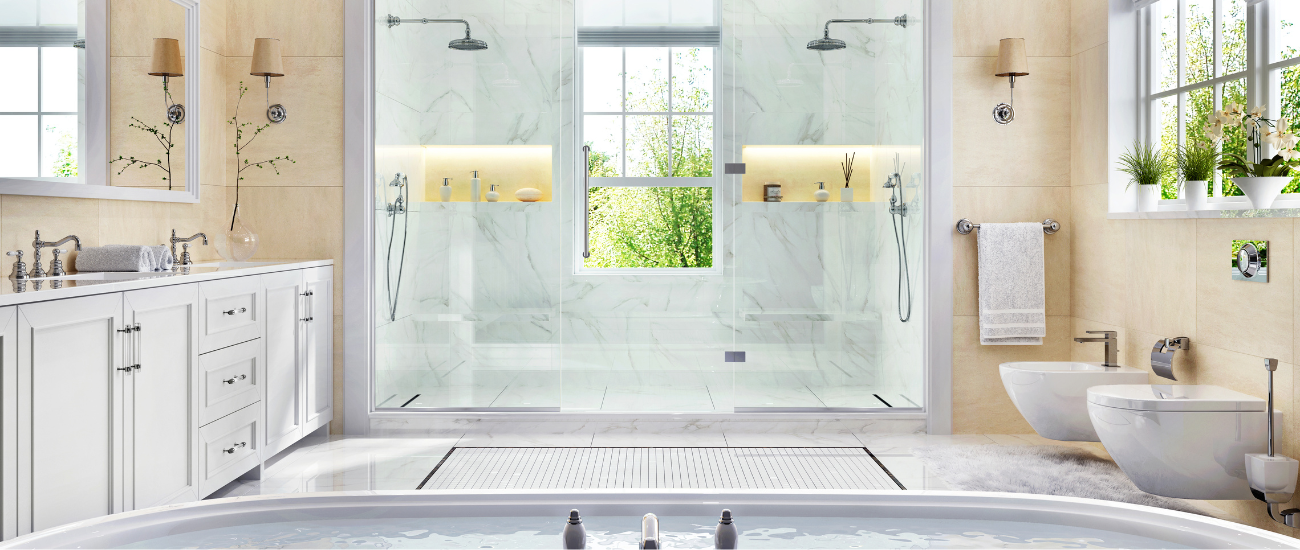 Bathroom Remodeling & renovation in Dallas
At Iron Kross Construction, we understand the importance of having a serene and calming space to recharge and relax. That's why we specialize in creating luxurious bathroom spas that will make you feel like you're on vacation every day.
Iron Kross can make your bathroom dreams a reality. Our professionally trained remodelers specialize in customized bathrooms that are tailored to meet all your needs and desires, from waterproofing to custom tile work. You'll have the peace of mind knowing we use only premium materials while building you an indulgent spa retreat – exactly as envisioned.
We look forward to helping you get the perfect bathroom for your home in North Dallas. Contact Iron Kross Construction today and start transforming your bathroom from standard into a gorgeous, calming sanctuary.
Our bathroom remodeling services include: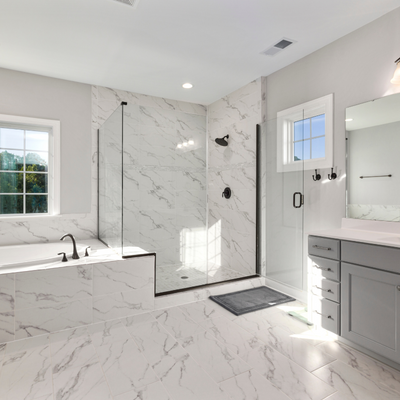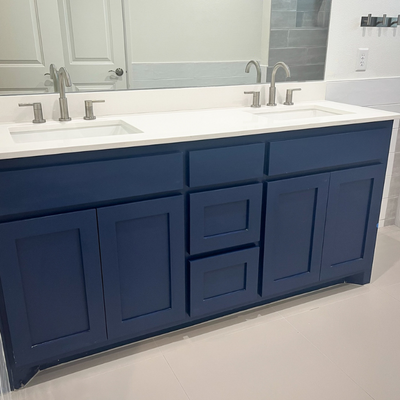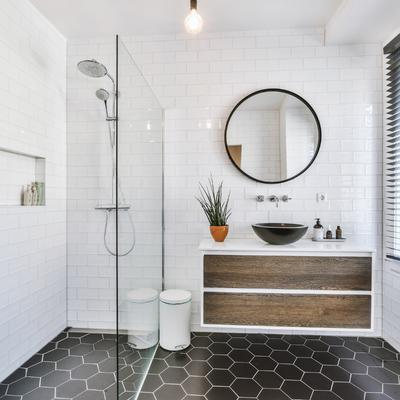 Book A Consultation Today to Discuss Your Bathroom Remodeling Pptions
Bathtubs
If you're like many people, you're considering getting a new bathtub, but you may be on the fence about whether you should have your bathtub reglazed or replaced. In some cases, it's better to replace your tub, such as when:
It's obsolete or worn out. If you've had your tub for quite some time, or if it's outdated and no longer works in your space, it's time for a new one.
It's exceedingly damaged. If your tub is broken or damaged beyond repair — or if it would cost almost as much money to fix it than it would to replace it, it's probably time for a new one.
Cabinets
Although there's no one size fits all approach to redoing a bathroom, many people choose to add cabinets when they remodel. There are several reasons to replace a bathroom vanity, such as when you need more space or the vanity's outdated. Additionally, you may want to replace your bathroom cabinets if you intend to sell your home soon, because space is typically at a premium and buyers like to see storage in bathrooms.
Closets
If you have enough space in your bathroom, we can add a closet for storage. Because bathroom storage is a fairly standard issue, and because many people consider space a major shortcoming in their homes, we have plenty of experience adding linen closets and larger closets to bathrooms.
Countertops
Whether or not you replace your vanity, we can replace, upgrade or refresh your countertops to make your bathroom appear more modern. Many people live with cracked, chipped or outdated countertops for far longer than they need to – but with our affordable pricing and incredible skills, you don't have to. Our team can replace your counters with a material you'll love, and that'll stay in great shape for years.
Flooring
The flooring in your bathroom may have seen better days, and if that's the case, it's time to get it replaced. We can refresh your whole bathroom's look with new flooring, whether you choose tile, marble, granite or something else. For many people, the floors can make or break the way a bathroom looks – and that's why we get it right every time.
Lighting
Your bathroom's lighting scheme has to be just right. You need to see well, the lights need to be modern and well-placed, and you need fixtures that go with your bathroom's theme or style. That's where we come in. Whether we're redoing your entire bathroom or just handling a few aspects of it, we can help you choose the right lighting for your needs. Our team can install everything you need to create a perfect, spa-like ambiance in your bathroom.
Painting
Over time, paint on bathroom walls can become damaged by consistent exposure to moisture. Repainting can also help protect your walls from moisture and mildew – even paint that's designed to resist those things can wear out over time. But even if your paint isn't old or damaged, changing the color can give your whole bathroom a new vibe and make it feel more like your own personal space. Our team can repaint your bathroom to give it the exact aesthetic you want.
Showers
Whether your shower is old or not working well, or you just want a new and freshly updated look in your bathroom, Iron Kross can help. First, consider the fact that a new shower will most likely use less water than your old shower did. That's because modern showers are made to be more ecologically friendly than they have been in the past. A side benefit: This will save you money on your water bill. Also, if your current shower has low water pressure, or if it leaks, it's time for a replacement anyway. Finally, replacing your shower can improve your bathroom's overall look and make it appear more modern.
Sinks and Faucets
Sinks and faucets are part and parcel of a complete bathroom remodeling process. However, many people choose to replace only sinks and faucets, and our team can do that, too. Generally speaking, newer faucets work better than the old ones do. And if you're dealing with leaks, slow drains or poor setup, a new sink is in order anyway. Because sinks and faucets have so much to do with a bathroom's look, many people choose to update them as they modernize the space.
Tiles and Backsplashes
Replacing tiles and back splashes are among our specialties. At Iron Kross, we know what it takes to make your home in Dallas or the suburbs look new. We can work with you to create the right look for your remodeled bathroom, including replacing tile and back splashes to revitalize your bathroom's look.
Book A Consultation Today to Discuss your Bathroom Remodeling options
Free In-Home consultation To explore Initial design Concepts.

Gather precise measurements to ensure a flawless installation.

Work with you to identify the perfect materials for your project.

Construction begins. Stay up to date with daily communication from our team.

A final tour of the project to check for any additional finishing touches.

Leave us a glowing review to share your satisfaction with others!

Book A Consultation Today to Discuss your Bathroom Remodeling options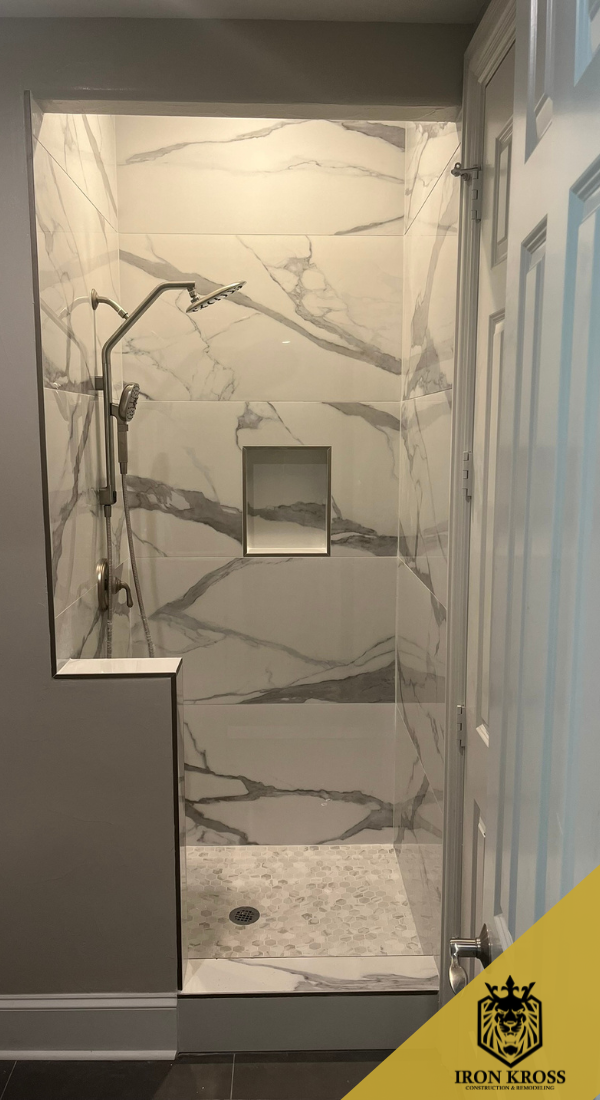 Check out the following questions we often get about bathroom remodeling. If you don't see the answer you're looking for here, feel free to contact our office and ask. We're always happy to answer questions.
You Deserve the Highest Level of Service
Let us take you on a journey to an upgraded bathroom. Our team offers the highest quality service and experience. We understand that each style is unique; therefore, we offer products tailored specifically for yours while staying within budget. When it's time for installation, a 3D rendering will already be waiting so nothing can stand between you and your dream space.
We offer a variety of tubs, showers, sinks and vanities in various sizes and finishes so you can easily create a bathroom that reflects who you are while also meeting your practical needs. Along with stylish fixtures and accessories, you'll be able to confidently create the bathroom of your dreams.
reimagining spaces & making visions become a reality
Whether you're looking for a full renovation or for a little inspiration, Iron Kross Construction has you covered.